Over centuries, Valentine's Day has become a celebration of love. I am blessed that my first love – ballet – has spanned decades and oceans and burns as bright as the moment I was first smitten. In assembling photos and thoughts for my forthcoming memoir, I was reminded of some of the many ways that my love of dance has been renewed.
In 1982, for example, I fell in love with the idea of having my own company, Chamber Ballet USA, despite the dire warnings from friends of taking on financial and artistic stress. But love makes us do crazy things. I went ahead like a maniac, spending $50,000 of my own money borrowing another $50,000 from the bank (roughly $240,000 in today's dollars), and risking the stability of both my home and studio. Little did I know that the decision would also have me playing cupid.
Chamber Ballet was a small company, made up of only 8 dancers. This intimacy not only brought the dancers closer to the audience, it also brought the dancers closer to each other. Out of these 8 dancers, two couples emerged.
In 1983 Chris Redpath (my first NYCB dancer in 1974) met Bill Soleau as dancers in CBUSA. They were married in 1994. Chris continues to be a ballet master at The New York City Ballet (specializing in ballets choreographed by Jerome Robbins). Bill has created over 80 ballets on companies around the world, just premiered his Midsummer Night's Dream with The Richmond Ballet, and presently is in Santa Barbara putting his Gershwin ballet onstage.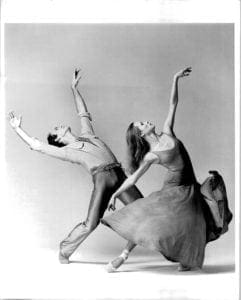 In 1985, Martha Purl and Jeff Satinoff met as as dancers in CBUSA, were married and today their son Dennis is working in the film industry in California. Jeff has made over 40 ballet on companies around the US including two that he directed, and developed the Dreyfoos dance program. Martha danced in his companies and is Dean of the Bak Middle School of the Arts Dance Program. They have students working everywhere today.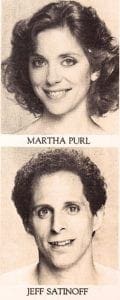 As one of our critics wrote, "Chamber Ballet has small cast, big future."
These lasting romances probably weren't what the critic had in mind, but they are part of Chamber Ballet's proud legacy.
I say "Love conquers all."