It's that time of the year again – out with the old, in with the new. Now, I'm not suggesting everyone will want to do what I did, when I discovered that burning your bridges to the past can open doors you never knew existed.
In 1968, I was a principal dancer with The Harkness Ballet in Monte Carlo. My childhood dreams had been fulfilled—I only wore white tights and danced classical roles. I was also I a devout Buddhist (having converted 20 Company members), and, one day, had a realization: "I can't be lying here at the swimming pool in Monte Carlo doing nothing"—while the world is in tumult following the assassinations of JFK, Martin Luther King and Robert Kennedy; Vietnam; hippies; LSD; women's lib; racism; and college protests.
In January 1969, The Harkness Ballet performed in New York. Shortly after the season, I told Larry Rhodes, who was the director, that I had decided to stop dancing so that I could devote my life to achieving world peace through Buddhism. I had no idea what I was going to do for a living.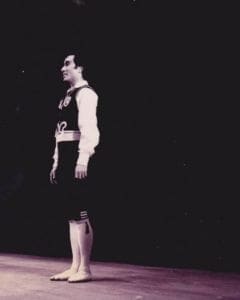 After sitting in a hot tub and crying my heart out over what I then thought was the greatest mistake I had ever made, I pulled myself together and found a 9 to 5 job working in an office as secretary to a private investor. My evenings and weekends were now free to roam the streets looking for people to invite to our Buddhist conversion meetings.
For three years, every waking moment was happily devoted to Buddhist activities.  And then, the owner closed his office and I was out of a job. I asked my Buddhist leader what I should do, and he said "Why don't you teach ballet?"
I contacted Wilson Morelli who said he would love to have me teach at his studio in downtown Manhattan. I went to look at his class and was shocked. I could not remember what the steps were called! I was seeing ballet through the eyes of a stranger. I was in a mild panic. How could I hope to teach professionals when I couldn't make sense of what they were doing?
I was in trouble—after I quit ballet, I zealously burned all the ballet memorabilia: books on technique, beautiful photo books, and films I had taken of Erik Bruhn onstage—the man who was one of the greatest dancers of the 20th century and had mentored me. I purposely destroyed all the reminders of my ballet past so that I could prove I was completely happy being a "nobody" without any special identity.
And now, in order to make a living, I was about to re-enter the ballet world. In desperation, I ran to the book store and bought all the ballet books available. My first class was attended by four students. Clearly, I had made a dreadful mistake—how would I survive making such little money? And teaching every exercise in 3/4 since I was too insecure to try anything else.
As we now know, I did survive—and thrive—and am now in my 44th year of teaching.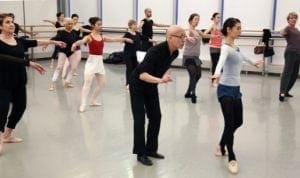 Because I had burned my ballet bridges, I was free to create my own ballet technique, based on teaching  the way I wish I had always been taught – with sensible exercises that warmed you up slowly and thoroughly, built strength and artistry, and even more, with explanations on HOW and WHY we ballet dancers do what we do.
Through the years, I've graduated to teaching adult beginners in classes at The Ailey Extension in New York, written a Technique book, and sold over 54,000 instructional videos. Another book and more videos are on the way. 2017, here we come!