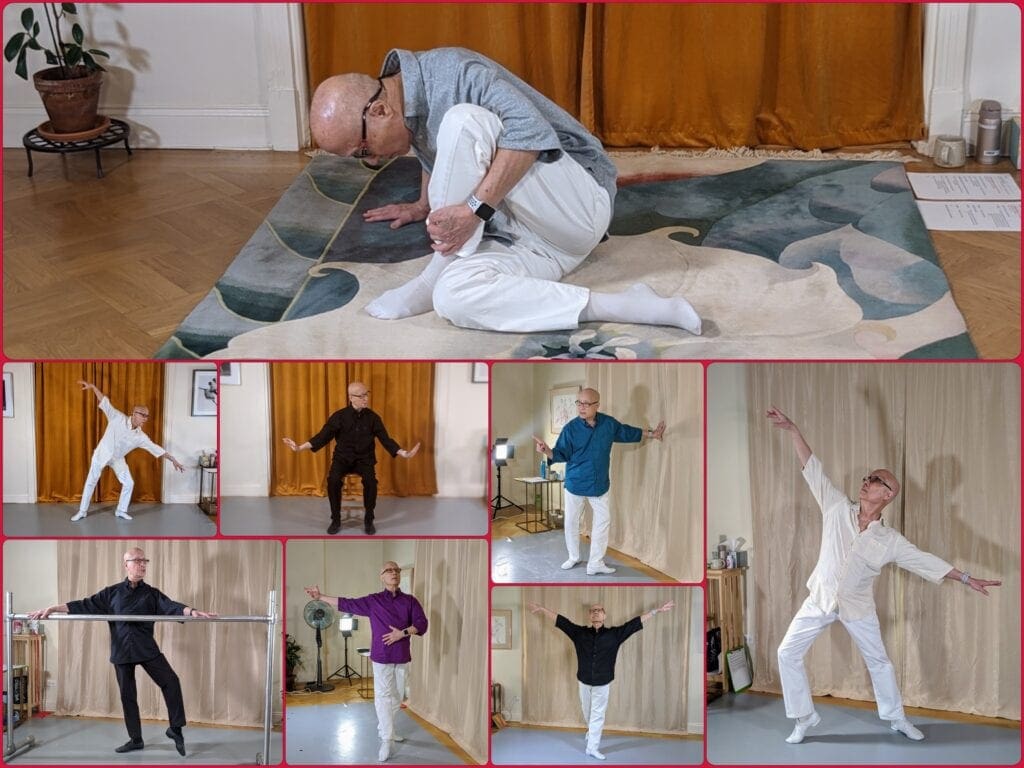 Upcoming Virtual Classes
Click here to learn more about In-Studio Classes.
View the complete class schedule here.
About Online Classes
Classes are held on Zoom and are available worldwide! Class registration is open up to one hour before class time. Looking for a Zoom link for a class you purchased? Visit your My Account page.
Beginner Ballet Level 2
Get On Your Leg So You Can Dance!
This class is geared to adults who have limited ballet training but are acquainted with the Finis Jhung Ballet Technique through his videos or classes. You will learn the essential ideas of the ballet dancing process as well as the often-neglected basics that make the difference. This is a very intense barre which works all the muscles as well as your mind. It is a class for the serious student who eventually plans on taking advanced level classes.
12 or 13 barre exercises. If you haven't a barre, you will need two chairs (preferably high-backed, one for each hand). The class will conclude at the barre practicing one of the following:pas de bourrée dessouswaltz stepbalancéglissade
Finis will explain & show each exercise which you will perform along with him. Then you will repeat the exercise following a demonstrator so that Finis can watch & correct you.
Ideally (you may have to rearrange your furniture) you have an open space approximately 5 feet by 5 feet so that you can move forward, backward, & sideways.
Ballet class attire or tight-fitting clothing is recommended so that Finis whether or not you are properly aligned on your supporting side with pelvic muscles fully engaged. Please put your hair up so that Finis can clearly see the placement of your head & shoulders.
Please do not dance on a rug or carpet. Work on a smooth flat floor so that you can easily slide your foot smoothly out & in.
Experiment with the placing of your viewing device so that Finis can see your entire body from head to toe with arms reaching out to the sides.
Stretch Relief
De-stress & Relax with Quiet Exercise.
"Stretch Relief" is the perfect way to end another day of stressful work & responsibilities. We'll mellow you out with the meditative music of Scott Killian & slowly paced pleasurable stretches that will relax stiff spinal muscles, loosen stiff joints, & promote restful sleep. We begin lying on your back on the floor, exercising your back in all the directions your spine can move which will relieve low back pain & sciatica. Sitting on the floor, you will stretch your lower back & the piriformis, psoas, hip, & thigh muscles. Standing up, leaning over a chair you will loosen the lower back & hamstring muscles. Sitting on a chair, you will increase your range of spinal motion while stretching the neck & shoulder muscles. You will complete the class standing, slowly swaying from side to side, releasing any residual tensions in your body & mind.
3 exercises lying & sitting on the floor, 2 exercises using a chair, 1 exercise standing in one spot. You'll be more comfortable if you can lie on a padded rug.
Dress for ballet or yoga or exercise class. No shoes required. You will need a firm chair or stool with a sturdy seat that you can bend over & place your hands on to support your weight.
Choreographed Stretches
Life-Giving & Age-Defying Movements.
These sequences are designed by Finis to incorporate every muscle group of the body in a variety of ways. Thoroughly & carefully, the body is taken through a series of stretches to bring oxygen, longevity & flexibility to every muscle fiber. Accompanied by the music of Scott Killian, you are able, no matter what your age or ability, to coax your body into greater suppleness & freedom of movement & coordination. Finis sticks to his belief that "to dance is to live", & "dance is movement, & movement needs muscles", allowing both the trained & "non-trained" to discover the dance inherent in movement itself. Discover, grow, & find fuller personal expression in movement within his careful guidance.Dress for ballet or yoga or exercise class. No shoes required. You will need a firm chair or stool with a sturdy seat that you can bend over & place your hands on to support your weight.