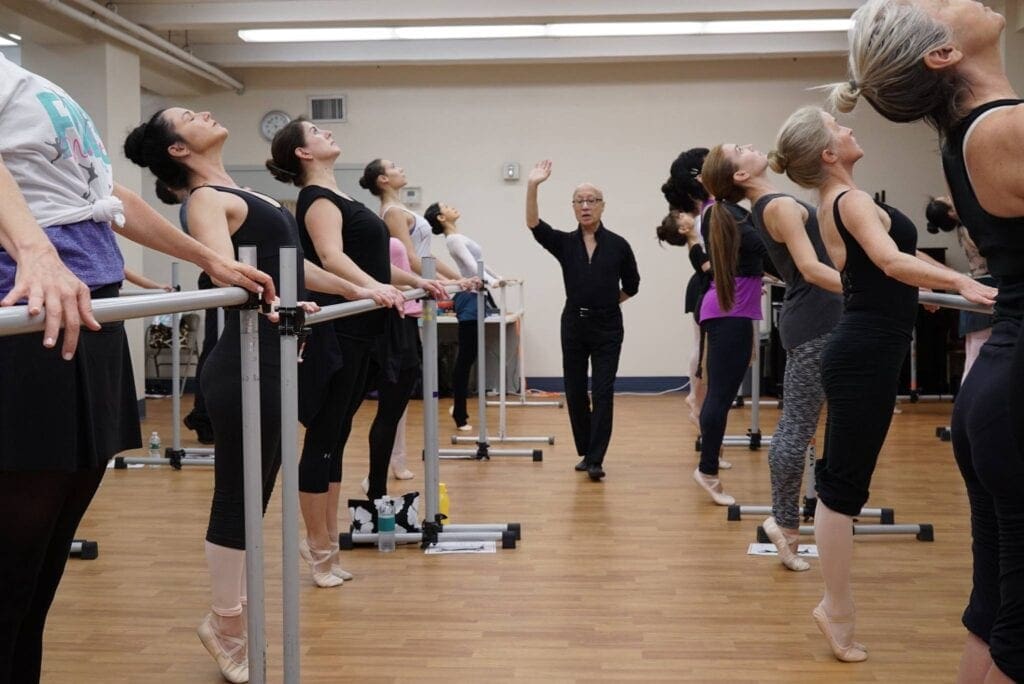 Taught by Finis Jhung.
Demonstrated by Mayumi Omagari and Ai Toyoshima.
Upcoming In-Studio Classes
Online classes will continue to be offered, provided there is a demand.
Click here to see the complete calendar.
This class is NOT an introduction to ballet for those with no previous ballet experience.
Nex Gen Studios*
519 8th Ave, 12th FL
New York, NY 10018
(212) 630-9930

Cost: $30 per class
Fridays: 6:30 – 8:30 p.m.
Sundays: 12 – 2 p.m.
*Formerly Pearl Studios
This two-hour class limited to 24 students is geared to adults who either have had previous training with other teachers or have studied with Finis Jhung in-class, online, or through his videos. You will learn the essential ideas of the ballet dancing process as well as the often-neglected basics that make the difference. 
The class begins with floor exercises which identify, stretch, and loosen your turn-out muscles so that you will be better able to execute ballet exercises.
The barre is very demanding as it prepares you to dance with strength, control, and balance in the center floor. Most important, you will learn Finis's latest teaching concept which he calls "PING SLAM BOUNCE" — working the demi-plié so that you relevé in dance-tempo (allegro) — springing up in a balanced pose, turn, or jump as fast as a ball bounces off the floor.
Center floor exercises will vary somewhat depending on the abilities of the students attending. Nonetheless, each class will include an adagio; various turning movements; linking steps such as the pas de bourrée, glissade, and chassé; dancing steps such as the balancé, waltz, and pas de valse; and little to medium-sized jumps such as the sauté, pas de chat, sissonne, jeté, and assemble.
To dance is to live. To dance is to learn.
Nex Gen COVID Protocols
**You must show proof of vaccination at the front desk to gain studio access
Our staff is fully vaccinated pursuant to CDC guidelines.
MERV 13 equivalent filters have been installed on our AC units.
Fresh air continuously flows into each studio.
Our air exchange rate exceeds 7 times an hour in all studios and common areas.
The studios are disinfected daily using EPA N cleaning products. Bathrooms and frequently touched surfaces are disinfected throughout the day.
Face coverings must be worn and social distancing will be required for guests moving through our hallways and common areas.
Waiting or congregating in the lobby and hallways is not permitted.
Upon arrival each guest ages 12 and up will need to present one of three options for entry: proof of a negative antigen COVID-19 test, or negative PCR COVID-19 test or full COVID-19 vaccination, with an appropriate ID matching the name on their documentation.
Hand sanitizer is available and we encourage frequent washing of hands with soap and water for at least 20 seconds.
Our general manager is a Covid Compliance Officer, trained and certified by Health Education Services.