Zoom Live: Stretch Relief
Thursday, September 30 @ 7:00 pm

-

8:00 pm

EDT

$15.00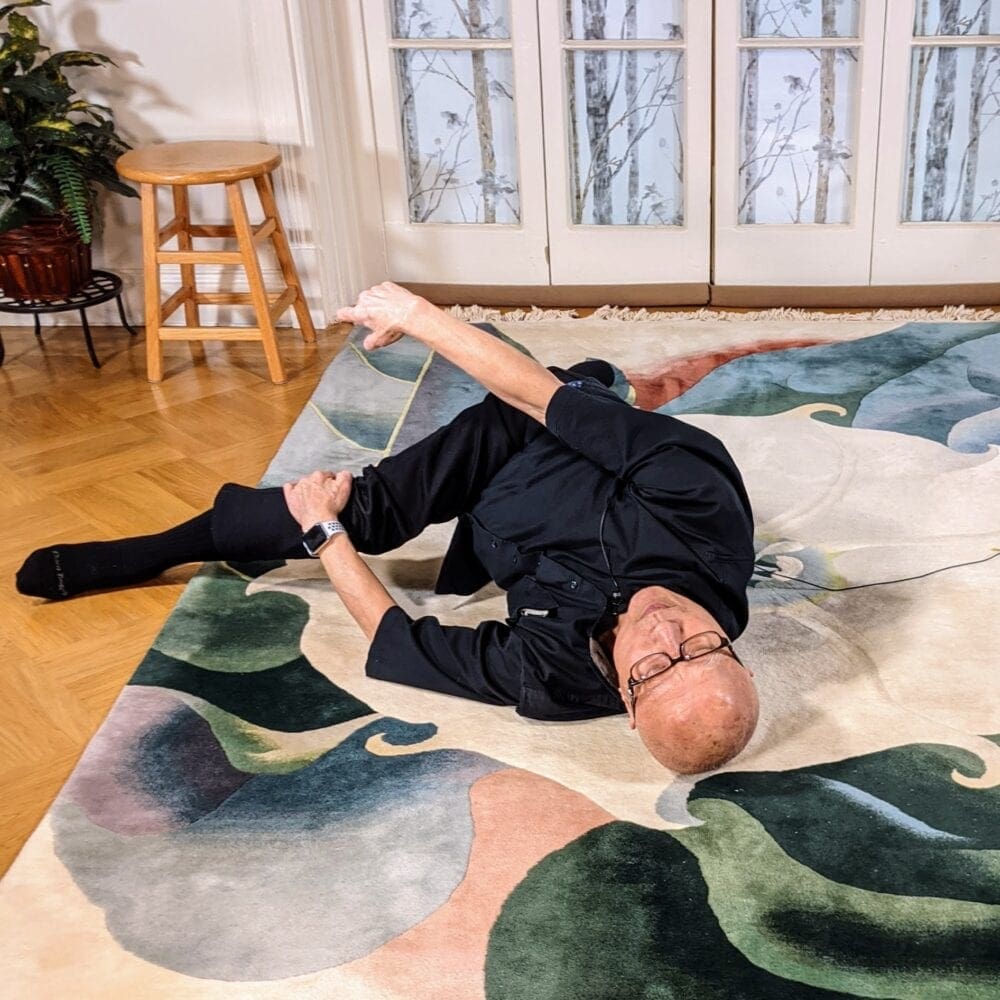 De-stress & Relax with Quiet Exercise.
"Stretch Relief" is the perfect way to end another day of stressful work & responsibilities. We'll mellow you out with the meditative music of Scott Killian & slowly paced pleasurable stretches that will relax stiff spinal muscles, loosen stiff joints, & promote restful sleep. We begin lying on your back on the floor, exercising your back in all the directions your spine can move which will relieve low back pain & sciatica. Sitting on the floor, you will stretch your lower back & the piriformis, psoas, hip, & thigh muscles. Standing up, leaning over a chair you will loosen the lower back & hamstring muscles. Sitting on a chair, you will increase your range of spinal motion while stretching the neck & shoulder muscles. You will complete the class standing, slowly swaying from side to side, releasing any residual tensions in your body & mind.
3 exercises lying & sitting on the floor, 2 exercises using a chair, 1 exercise standing in one spot. You'll be more comfortable if you can lie on a padded rug.
Dress for ballet or yoga or exercise class. No shoes required. You will need a firm chair or stool with a sturdy seat that you can bend over & place your hands on to support your weight.
This 60-minute class costs $15.
**Class registration ends 1 hour before class begins.
Zoom Links
Once you have completed your purchase, you will receive an email with the Zoom information. We are not able to offer extensive technical support for Zoom meetings, so if you are new to Zoom or have questions, please allow time to download any necessary extensions. We direct you to these articles: Zoom Video Tutorials | Official Zoom Privacy & Security Guidelines | Zoom Security Tips from Forbes
Important: Please note that we are unable to offer refunds for any reason. Thank you for your understanding.
Disclaimer: Any person who participates in a Finis Jhung ballet class, does so at their own risk and assumes all risks involved, including but not limited to all cost, claim, injury, damage, or liability sustained while participating. Finis Jhung / Ballet Dynamics, Inc. will not be held liable for any misfortune that may occur. By signing up for the class, you are agreeing to the above and are certifying that you are in good health and have consulted a doctor before beginning this dance program. Also, the information provided through this website does not constitute or replace the medical advice of a healthcare professional. If you have any questions, please email Finis before registering.