Zoom Live: Beginner Ballet Level 2
Saturday, August 28 @ 1:00 pm

-

3:00 pm

EDT

$25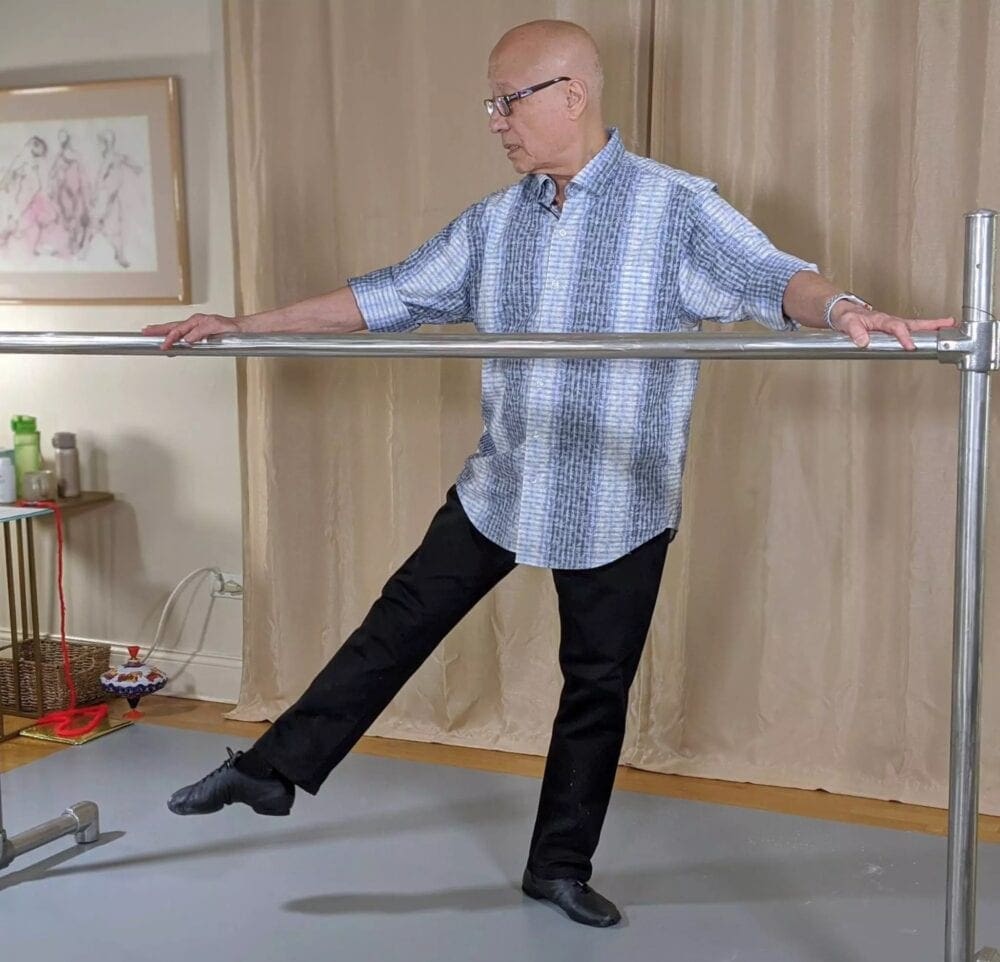 Turnout Stretches, Essential Barre Exercises, & Basic Movement Skills
This newly revised two-hour class is aimed at adults familiar with the Finis Jhung Ballet Technique. The class begins with floor exercises that improve your turn-out. The barre focuses on Finis's latest teaching concept "PING-SLAM-BOUNCE" — the quick plie-relevé*. The class ends with basic ballet movement skills done in your barre space: the pas de bourrée, glissade, chassé, balancé, waltz, & fondu développé relevé.
Finis will explain & show each exercise. You will then repeat the exercise along with a TEAM FINIS demonstrator so that Finis can watch & correct you.
If you haven't a barre, use two chairs (one for each hand). Your barre space should allow you to take 3 or 4 steps in any direction.
Please wear ballet or exercise clothes. Avoid working on carpeting which will not allow you to slide your feet out & in.
Experiment with the placement & angle of your camera so you are visible from head to toe with arms reaching out to the sides.
There will be a short break around the one hour mark.
*To familiarize yourself with the Finis Jhung Ballet Technique & Finis's latest teaching concept "PING-SLAM-BOUNCE" — the quick plie-relevé, you can rent a pre-recorded Beginner Ballet Level 1 class (no longer offered live online) for 48 hours here: Finis Jhung Live Rewind
This class costs $25.
Class registration ends 1 hour before class begins.
Questions?
Email Finis: finis@finisjhung.com
Zoom Links
Once you have completed your purchase, you will receive an email with the Zoom information. We are not able to offer extensive technical support for Zoom meetings, so if you are new to Zoom or have questions, please allow time to download any necessary extensions. We direct you to these articles: Zoom Video Tutorials | Official Zoom Privacy & Security Guidelines | Zoom Security Tips from Forbes
Important: Please note that we are unable to offer refunds for any reason. Thank you for your understanding.
Disclaimer: Any person who participates in a Finis Jhung ballet class, does so at their own risk and assumes all risks involved, including but not limited to all cost, claim, injury, damage, or liability sustained while participating. Finis Jhung / Ballet Dynamics, Inc. will not be held liable for any misfortune that may occur. By signing up for the class, you are agreeing to the above and are certifying that you are in good health and have consulted a doctor before beginning this dance program. Also, the information provided through this website does not constitute or replace the medical advice of a healthcare professional. If you have any questions, please email Finis before registering.